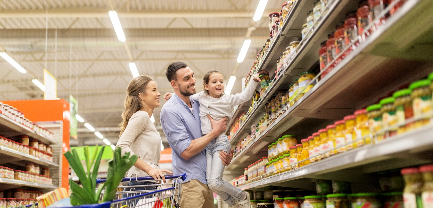 12.09.2023
How do

we BOOST offline store SALES with shoppers' insights? 

The offline retail world is often referred to as a war zone. In the highly competitive offline retail world, it's crucial to focus your efforts and resources effectively to succeed.

Furthermore, we're currently experiencing fluctuating market conditions and ongoing debates about recession and financial shifts across all sectors. Although, it is assumed that people will continue to buy and consume but in a slightly different way.

This means that retailers and brands who are capable of measuring and analyzing these fluctuations can promptly modify their strategies to cater to their customers' evolving needs and desires.

One of the primary challenges in offline retail decision-making today is gaining a better understanding of our shoppers' decision-making processes. While the online retail sector enjoys advanced measurement and analysis tools, the offline retail sector often lacks adequate data and an understanding of shoppers' in-store behavior.

With ShopperAI, we aim to change this

Later in this document, we will discuss how we collect and analyze meaningful data for in-store retailers. But first, let's examine a few of our insights and recommendations that increased sales for our existing customers by more than 50% for various products or categories.

We have chosen four of our favorite case studies to share with you.
"How to make your competitors' lives easier" –
In this project, we partnered with a well-known snack brand. The bright packaging of the product appears to draw shoppers to the shelf. Despite not being positioned at eye level, the product garnered significant attention due to its appealing nature. Although the colorful and attractive snack drew shoppers to the shelf, we noticed that they tended to choose a competitor's product instead. To address this, we recommended relocating the snack away from its direct competition, resulting in a 72% increase in sales.
The delicate art of store positioning –
We found that products placed on both external and internal shelves generated more sales, but the internal shelf had a higher purchase rate. This insight can also be used to improve sales of products with high abandonment rates. For instance, we placed a toiletries product with high abandonment rates on an external shelf and saw a 62% increase in sales.
Putting a healthy snack in the "wrong" category –
Our testing revealed that placing a health product in the unhealthy snack category resulted in a 66% increase in sales compared to its original location in the health candy category.
Lastly, promotion insights –
The dairy category showed a high abandonment rate for 2+1 promotions. Half of the shoppers who abandoned the dairy product did not purchase other dairy products. The other half opted for a similar product offered by a promotional competitor, even though it was more expensive.
We have only scratched the surface with these case studies.
Understanding shopper behavior is crucial for making scalable and efficient decisions that impact store revenue and customer satisfaction. ShopperAI's clients have improved their marketing efforts, increased ROIs, worked more efficiently, and eliminated guesswork by uncovering these blind spots.
Our Technology:
Our technology combines AI and computer vision. By integrating seamlessly with in-store cameras, we capture shoppers' data and translate it into actionable insights. Improving offline retailers' understanding of shoppers' behavior can help turn this information into valuable actions. Our goal is to achieve this without interfering with the daily workload.
---
Share the insight: